The Victoria and Alfred Waterfront is one of Africa's most visited destinations and attracts 24 million people every year. Its setting, in the oldest working harbour in the southern hemisphere, is simply spectacular: it has Table Mountain as a dramatic backdrop as well as extensive views of the ocean, city bowl and the mountain peaks of the Hottentots-Holland Mountains.
This 123-hectare mixed-use development, which caters to both local and international visitors, has everything on offer from residential to commercial property, which includes hotels, retail districts, and extensive dining, leisure and entertainment facilities. Its  many heritage sites and tourism landmarks make it both exceptional and unique, as does the recently opened Zeitz Museum of Contemporary Art Africa (MOCAA), which hosts the world's largest collection of contemporary art from Africa.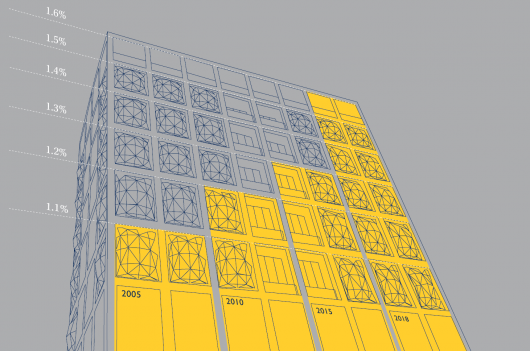 The fourth instalment in our bi-annual economic impact report quantifies the economic contribution made by the V&A Waterfront to Cape Town and the country. It shows an incredible, accelerating upward trajectory.
Highlights illustrate:
The Waterfront's 2018 contribution to direct GDP was R9.3bn and R31.5bn to total GDP, while the cumulative contribution since 2003 was R76bn to direct GDP and R255bn to total GDP.
In 2017, economic activity grew in real terms by an astonishing 13.5%, compared to (calendar year 2017) the Western Cape GDP growth of 0.5% and the country at 1.5%.
There were 23 000 people working at the V&A Waterfront itself, while total employment (including indirect jobs) was 66 000.
Highlighting the increasing focus on enterprise development and start-ups, there were 396 businesses operating in this sphere, with a total turnover of R329m. Average firm turnover was R1.5m, while more than 2 800 people owed their livelihoods to enterprise development and start-ups. Download the 2018 Report
It is also the operator of the newly upgraded Cape Town Cruise Terminal – within walking distance of Zeitz MOCAA. The V&A is jointly owned by Growthpoint Properties Limited and the Government Employees Pension Fund (GEPF), represented by the Public Investment Corporation Limited (PIC).
Download the latest economic impact study, which quantifies the economic contribution the V&A Waterfront is making to Cape Town and to South Africa as a whole.